Category:Shows with wikis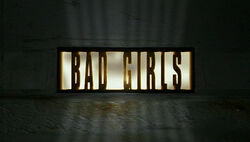 Bad Girls is a British television drama series that was broadcast on ITV from 1 June 1999 to 20 December 2006. It is set in the fictional women's prison of Larkhall, and features a mixture of serious and light storylines focusing on the prisoners and staff of G Wing.
From 2010, the UK broadcast rights were bought by CBS Drama, and is repeated regularly – as of September 2012, the channel is re-running the series again in a late-night time slot.