Category:Shows with wikis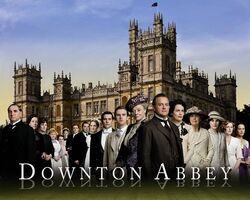 Downton Abbey is a British television series coproduced by Carnival Films in the UK and WGBH Boston in the U.S.
It is set on the fictional estate of Downton Abbey in the North Riding of Yorkshire, England, and features an ensemble cast. It was written principally by Julian Fellowes, who co-created it with Gareth Neame. It premiered on the ITV Network, on ITV1, on 26 September 2010 and on PBS on 9 January 2011.
The series is set in the fictional Downton Abbey, the Yorkshire country house of the Earl and Countess of Grantham, and follows the lives of the aristocratic Crawley family and their servants during the reign of King George V.
The first series spans the two years before the Great War beginning with news of the sinking of the Titanic in 1912, which sets the story in motion. The second series covers the years 1916 to 1919, and the 2011 Christmas Special covers the 1919 Christmas period, ending in early 1920.