The topic of this page has a wikia of it's own: Heartbeat.
Category:Shows with wikis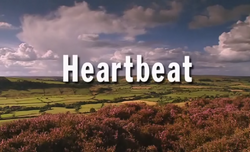 Heartbeat is a British police drama series set in 1960s Yorkshire and broadcast on ITV1 in 18 series between 1992 and 2010. It was made by ITV Studios (formerly Yorkshire Television) at The Leeds Studios and on location. Heartbeat first aired on Friday 10 April 1992 (it was later moved to Sunday evenings). The 372nd and final episode aired on Sunday 12 September 2010.
The show proved popular from the beginning, when early series consistently drew over 10 million viewers. In its first year Heartbeat averaged 14.5 million viewers and was regularly in the top five TV programmes across all British channels. In 2001 Heartbeat came sixth in the UK TV ratings list with a peak audience of 13.82 million and was sixth again in 2003 with 12.8 million viewers. In autumn 2008 typical viewing figures were around 6 million per episode.