ITV1
The ITV1 logo since 2013
Launched
22 September 1955
Owned by
ITV
Picture format
576i (SDTV)


1080i (HDTV)

Audience share
1.3% (HD)
(January 2014, BARB)
Slogan
"Where drama/laughter/life/news lives"
Country
United Kingdom
Language
English
Broadcast area
England
Wales
South Scotland
Isle of Man
Channel Islands
ITV1 is a generic brand that is used by twelve franchises of the British ITV Network in England, Wales, southern Scotland (Dumfries & Galloway and the Scottish Borders), the Isle of Man and the Bailiwicks of Jersey and Guernsey.
The ITV1 brand was introduced by Carlton and Granada in 2001, alongside the regional identities of their eleven regional companies. ITV1 replaced these regional brands completely in October 2002, before Granada and Carlton merged to form ITV plc in 2004. The brand is also used by the non-ITV plc owned Channel Television. The ITV1 brand, however, should be distinguished from the UK-wide ITV, of which ITV1 forms a large proportion.
ITV1 and its predecessor channels (collectively known simply as ITV from 1955 to 2001, and always treated as a single channel for ratings purposes), have contended with BBC One for the status of the UK's most watched television channel since the 1950s. However in line with other terrestrial channels, ITV1's audience share has fallen in the era of multi-channel television.
this channel shares time with CITV in the morning the show for the morning is This Morning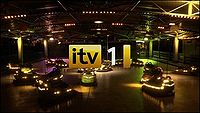 Programs
Edit
Community content is available under
CC-BY-SA
unless otherwise noted.