Category:Shows with wikis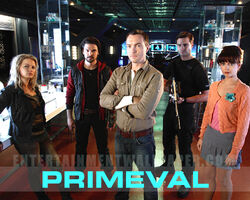 Primeval is a British science fiction television programme produced for the ITV Network by Impossible Pictures. Created by Adrian Hodges and Tim Haines, who previously created the Walking with... documentary series.
Primeval follows a team of scientists tasked with investigating the appearance of temporal anomalies across Great Britain through which prehistoric and futuristic creatures enter the present, as well as trying to prevent end of the world scenarios from occurring.