The topic of this page has a wikia of it's own: The Bill.
Category:Shows with wikis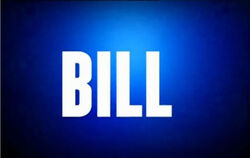 The Bill is a police procedural television series that was broadcast on the ITV network from 16 October 1984 until 31 August 2010. The programme originated from a one-off drama, entitled Woodentop, which was broadcast in August 1983. In its final year on air, The Bill was broadcast once a week, usually on Tuesdays or Thursdays, in a one-hour format.
The programme focused on the lives and work of one shift of police officers, rather than on any particular aspect of police work. At the time of the series' conclusion, The Bill was the longest-running police procedural television series in the United Kingdom, and was among the longest-running of any British television series.
The series was produced by Thames Television. The series name originated from "Old Bill", a slang term for the police. This was also Geoff McQueen's original title idea for the series, before he eventually decided on "The Bill".