Category:Shows with wikis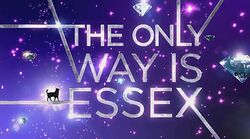 The Only Way Is Essex is a BAFTA award-winning 'lightly scripted' reality television series based in Essex, England. It shows "real people in modified situations, saying unscripted lines but in a structured way." The show is filmed just a few days in advance, and is narrated by Denise van Outen, who is from Basildon, Essex. The show has been described as Britain's answer to The Hills and Jersey Shore.
Historically, each series lasts six weeks, airing on Wednesdays and Sundays at 10pm on ITV2 from 2010 to 2014. In February 2014l it was announced that the show would be moved to ITV2's sister channel ITVBe when the channel launches. The first series consisted of 10 episodes and ran for 30 minutes, with a Christmas special following later in the year. Due to popularity, the show was extended to 45-minute episodes and renewed for a year's airing. On 22 May 2011, the series won the Audience Award at the 2011 BAFTA Awards. The eleventh series, which started airing from 23 February 2014, will be the last series to air on ITV2 before the show moves to ITVBe.